Zenith Bank is expected to hold its health walk to create awareness on healthy living under the theme, "Go Lite With Zenith Bank – It's faster, It's Smarter" on Saturday March 30, 2019 at Zenith Heights, Ridge, Accra.
The health activity is embarked on by over 1,000 participants including staff of the bank, its customers and partners. There would be free medical screening, product sampling, exhibition as well as lots of fun and entertainment.
Henry Oroh, Managing Director, Zenith Bank Ghana Limited says the bank values the health of its staff, partners and customers, urging all to work towards living healthier lifestyles.
He said good health can be achieved by adopting the right behaviours like eating a balanced diet, exercising and positive thinking.
Mr Oroh also commended customers for their loyalty and unflinching support in doing business with the bank over the years, adding that the bank believes in the innovative products and services they offer to their cherished customers.
"We firmly believe that you, our cherished customers are the reason for our success and we want to assure you that we will always act in your best interest," he added.
Mr. Oroh encouraged the staff to continue their work to make the bank a market leader.
"As we move forward, we must remember the things that have made us different and brought us where we are…Zenith people pursue excellence, deliver results, create value for customers, act with integrity and also are innovative," he said.
The Zenith Walk has been supported by staff of Kasapreko Company Limited, Ashfoam, Toyota Ghana Limited, Nestlé, Promasidor, PZ Cussons Ghana Limited, Del Hospital, C and J Medicare Stallion Group of Companies and the Ghana Olympic Committee (GOC).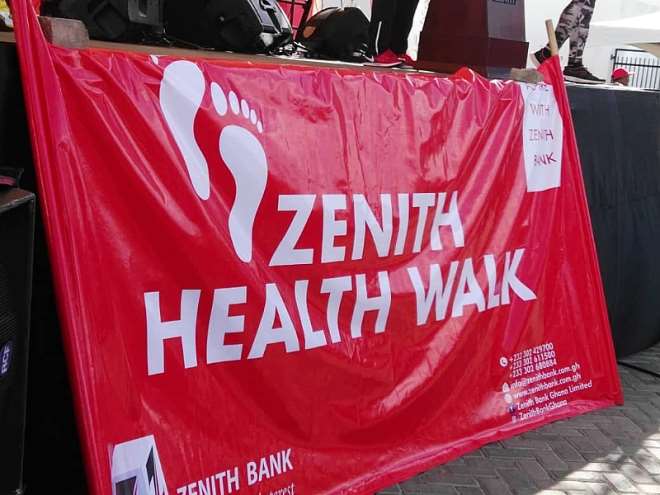 Credit: Source link