The New Patriotic Party (NPP) MP for Nsawam-Adoagyiri in the Eastern Region, Frank Anor Dompreh, has said the heated exchanges on Monday involving Foreign Minister, Shirley Ayorkor Botchway, was unfortunate.
Mr Anor Dompreh, who Chairs Parliament's Foreign Affairs Committee said although the Foreign Affairs Minister was provoked, she could have managed the situation better.
"We are humans and one way or the other we make mistakes. She [Shirley Ayorkor Botchway] was emotional, there is no doubt about it [but] the position we find ourselves are positions of influence and they are also positions of privilege and these privileged positions come with a certain expectation in terms of behaviour…
"I am not here to draw lines and say 'well, she was wrong' but I thought that she could have done better and she herself has admitted that next time she will be much more careful," Anor Dompreh said on Monday evening on PM Express .
Heated exchanges
Monday's heated exchanges on the outskirts of Parliament between the Foreign Affairs Minister and National Democratic Congress (NDC) MP Samuel Okudzeto Ablakwa held many spellbound after the incident was recorded and published on social media sites.
Okudzeto Ablakwa is claiming that government purchased a building in Norway at $12 million for use as an embassy.
However, after documents presented by Mr Ablakwa to Parliament were rejected by the Speaker of Parliament, Prof Mike Ocquaye, as unreliable, the livid Foreign Affairs Minister confronted the NDC MP outside the Parliament's chambers.
Shirley Ayorkor Botchway, who is also MP for Anyaa-Sowutuom, could be seen in the video screaming her defence of the alleged purchase to the opposition NDC MP.
Related: Okudzeto presents allegations of inflated embassy building in Norway
Photo: Okudzeto says this buidling in Oslo is to be used as Ghana's embassy in Norway
According to the Minster, only an offer had been made, berating the NDC MP for not consulting her before bringing the matter to the House.
Another NDC MP filming the heated exchanges outside of Parliament, Sam George, also incurred the Minister's wrath. After she spotted him filming the confrontation, she shoved the phone off in an attempt to stop the recording.
Many have condemned the Foreign Minister's action, calling it unbecoming of a diplomat.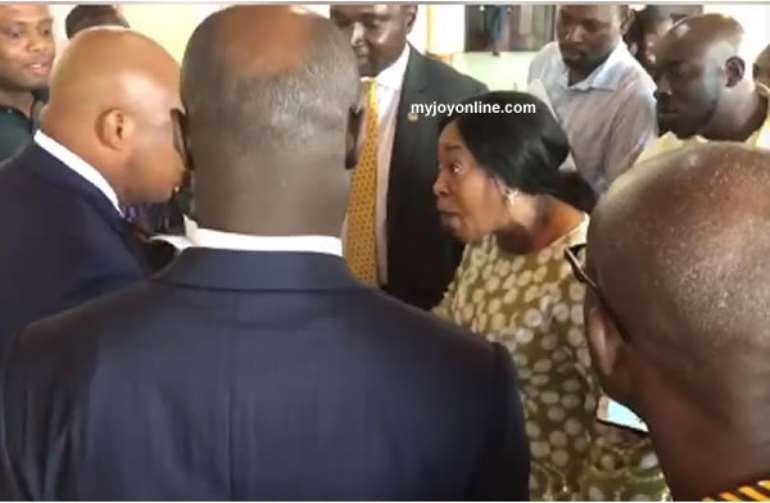 Photo: Samuel Okudzeto Ablakwa (extreme left) facing Foreign Affairs minister
Just apologise
At a press conference shortly after the heated exchanges, Shirley Ayorkor Botchway admitted that there was a heated exchange with his colleague MP, but insisted that such exchanges were not out of place.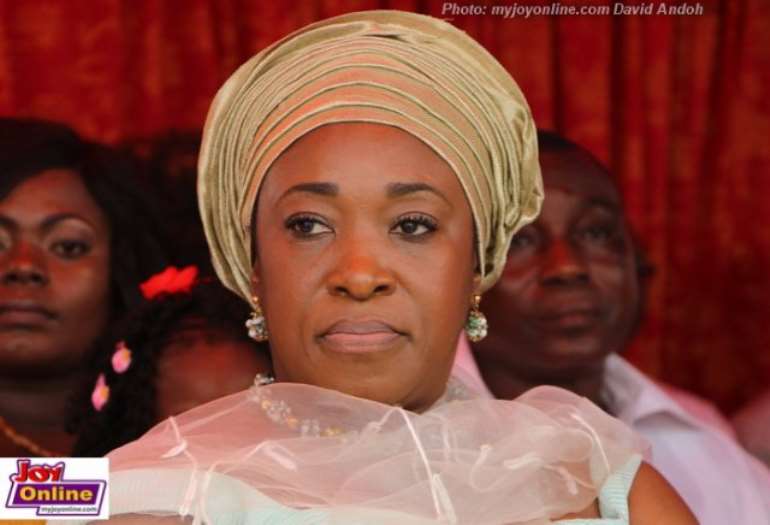 Photo: Shirley Ayorkor Botchway says Sam George was invading her privacy by filming the heated exchanges
On shoving a mobile phone off Sam George, the Minister justified her action on grounds that the MP was invading her privacy.
But speaking on the matter on PM Express , Alhassan Suhuyini, MP for Tamale North, said it was scandalous that the Minister sees no reason to apologise for her behaviour.
"It is scandalous that the Minister herself, even after the event, can't come to the acceptance that so much is expected of her given the role that she performs on behalf of this nation as a diplomat It is scandalous; it just tells you the level of intolerance that some government appointees are capable of dishing out to their opponents.
"We choose our best to lead our diplomacy and in diplomacy, you can come across a lot of frustrating moments. The way you come out of [these moments] determines your mettle," he said.
Watch more in the video below
Source: Ghana | Myjoyonline.com

Credit: Source link